The 4 Foundations Of A Powerful Loyalty Program
There are a growing number of customer loyalty programs available to retailers these days, many of which offer a fairly good service.
But like most business owners, you need more than fairly good to invest your time and money into a new initiative like a loyalty program.
This post aims to give you all the information you'll need to make sure the program you're buying into, ticks all the necessary boxes.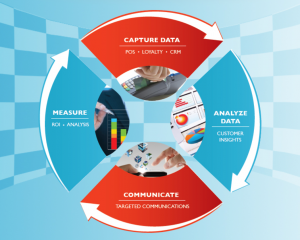 Data Gathering and Access
One of the main ways a loyalty program impacts your business is in giving you a clearer picture of who your customers are, what the buy and how they buy.
When looking into a loyalty program you should always be sure that you have complete access to your customer buying data, all the way down to the line items.
Spend based data shows you which of your products generate the most sales, which stores sell which particular products and when. This data can be used not only for business development, but also for relevant marketing communications which we'll get into shortly.
Data Analysis
Data is gold! But if you don't have a system to analyse and aggregate that data into an easy to understand dashboard, it's worthless.
Big retailers will often spend millions on analytics specialists to gain real insights into their customers.
But with a system like The Loyalty Box you can get all the insight, at a fraction of the price, through our proprietary software.
Relevant Marketing Communications
As traditional media has become less and less effective, marketers have noticed the need for more personalized and relevant communications.
Consumers will always respond better to promotions targeted at them, based on their buying habits, that's sent at the right time.
Programs like The Loyalty Box allow you to automate the sending of SMS and email promotions based on amount spent, specific items purchased and buy frequency.
Measuring Your Loyalty Initiative
As with most types of marketing, if you can't measure it, it's not worth doing. Measurement plays an essential role in a loyalty initiative.
Measuring for effectiveness not only helps you refine your offers and promotional messages, it also makes funding your loyalty program a lot easier.
The sharpest retailers in every industry are using their loyalty programs to bring in revenue from both their customers and also their suppliers.
They do this by running specific product based promotions, and giving the product's supplier the resulting spend based data.
Get Feedback From Other Business Owners

If you're thinking about going ahead with a loyalty program but still not 100% convinced, the best way forward is always to chat with business owners who are currently using the program you're considering.
From our perspective, the most important thing about a loyalty program is your ability to maintain control. That's why we built The Loyalty Box platform. It provides business owners with the tools to customize their programs, campaigns and messaging in seconds. It provides real insight into the data that matters most to your business. And it makes running a loyalty program simple and easy.
To find out more about The Loyalty Box offering, click here now!