How to Grow Your Retail Business Through Corporate Responsibility Initiatives
We all know the major role millennials will play in the future growth of our businesses over the next few years. And it's no secret that one of the primary motivators for millennials is giving.
That's why corporate social responsibility initiatives are now more important than ever. Your customers need to know that you care about people more than just bringing in revenue.
But launching a sustainable charity initiative is often difficult, time consuming and resource intensive. But what if it wasn't?
In this article we'll show you how you can set up a long-term or blitz donation initiative in under an hour using our online tools.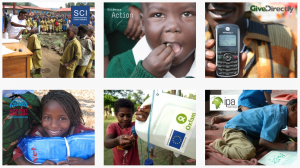 Choose your charity
If you have a charity that you personally care about, this a great opportunity to support it. If you don't, you can have a look through this list of charities that are having a massive impact all over the world.
The key here is coming across as genuine. So sometimes the more fringe, unusual and specific your charity is, the better.
Your charity of choice doesn't necessarily need to relate to your product or service, but it's often easier to create a narrative when it does.
Decide on your campaign
While long-term charity initiatives are usually best, running a temporary blitz campaign with bigger donations can create huge exposure.
Start out by thinking about your budget, how much you're willing to invest in this plan. This will determine the percentage you want to offer.
For a blitz campaign, you could donate 10% of your customer's spend to charity, for a longer term plan, you may want to only donate 3-5%.
Launch the program
At this stage you can either use The Loyalty Box software with a free trial, or do it all manually. The advantage of going with an actual program is that you don't have to try and manage the process yourself.
Our system allows you to set up your own program, it also automatically generates all the codes you'll need to give customers who want to donate.
You can spread word about your program through your social channels, on your Adwords campaigns, and over email if you have a database.
Simply offering your customers the opportunity to donate on their next purchase, and then sending them their unique codes, will show you whether or not this plan is going to work for your store.
Record purchases
If you're a brick and mortar retailer, you'll need to show your staff what to do and set up The Loyalty Box software on your point of sale system. This is relatively quick and easy but must be considered.
If you're not currently using a POS device, you can use The Loyalty Box's web terminal to record donation purchases.
All that's required whether you use a POS or on you're on a web terminal is to run the purchase through your loyalty section.
Donate
The best way to manage a charity program is to make your donation either at the end of your campaign or at the end of each month.
If you can, sending out an email thanking your customers for their donations, is ideal. With The Loyalty Box, you can automate this function.
If you're using our loyalty system, it's easy to see your customers' purchases on the online dashboard, so getting the donation amount is simple.
Make it stick (BONUS)
Once you have a few hundred customers on your system, it's important to extend the program or change it to keep driving repeat visits. You can do this by sending an email or SMS with an offer.
If your message is relevant enough and related to products or services they often buy at your shop, it will usually bring them back in.
At this stage, if you're running a physical store, you can give these customers branded loyalty cards with cashback and charity rewards.
Conclusion
Bringing more feet through the door with a social responsibility initiative doesn't have to be difficult. In fact, with The Loyalty Box, it's quick and easy.