How To Turn Groupon Discount Junkies Into Lifetime Customers
If you've ever run a group buying deal or voucher program, you'll be familiar the modus operandi – Discount your product by 50% or more, wait for the provider to market it to their audience, and watch a barrage of new customers flood through your doors.
The fact is, people love to pay less, and getting access to a group of keen customers can never hurt your business, right?
The real question is, once the promotion's finished, will any of these customers ever come back?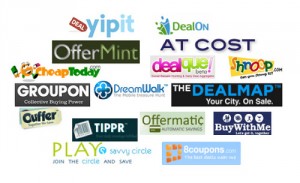 The Reality of Purchase Bribery
The idea of offering discounts and group buying deals is solid – attract a customer with a great special and once they've experienced your awesome product/service first hand, they'll keep coming back. But in practice it's a little different.
People sign up for group buying sites so they never have to pay full price for a meal or a vacation or a pedicure ever again. And retailers wind up giving away more and more for a lower quality customer who has no intention of returning to their stores without the promise of some sort of deal.
So how you to break out of the vicious cycle of purchase bribery? Well the fact is, you don't. You don't want to break out of it because it works. Rather you want to use it to your advantage. Instead of offering massive once-off discounts, you want to offer the opportunity to earn rewards that grow incrementally with repeat purchasing.
Turn The Tables On Cheapskate Customers
The moment a voucher or discount holder walks into your business, you need to hook them. Offer them a deal they don't expect. This time it won't be 50% off the price, but it may be 5% cashback on every purchase made at your store when she swipes her loyalty card.
When done right, the discount buyer won't have the willpower to resist your deal and will instantly sign up. This is where the magic happens.
Now that she's on your books and you've recorded her purchase, you can target relevant SMS and email messages to her to reel her back in with an incentive.
Loyalty Systems Empower Both Retailers and Customers
Discounts are great for customers but can sometimes be damaging to businesses. The problem comes in with businesses who don't have tracking measures in place to assess the effectiveness of their promotions and make sure customers can't photocopy vouchers or use a deal more than once.
Loyalty programs on the other hand work more like an exchange. You trade great deals for your customers' buying details (all the way down to line items) as well as their permission to market to them.
Targeted marketing and promotions aimed at one person and his or her buying habits, will always be more effective than general promotions directed at everyone.
What This Looks Like in Action
Let's say you're a health spa and a customer comes in for a massage. She hands you a 50% off voucher and you sign her up on your cashback loyalty program. Now you can send her a message in a month's time offering 25% off a pedicure when she comes in for her next massage.
With a system like The Loyalty Box, you can automate your program to do this on its own by setting rules based on buyer frequency, spend and items purchased.  
This makes loyalty a much more sustainable and controlled initiative. It gives business owners the tools to draw customers back with relevant promotions based on what they buy.
It also means that businesses can change buying behaviour over time by incentivizing customers to try new products.
Click here to learn more about the powerful loyalty solutions offered by The Loyalty Box and how they can help you massively increase revenue in a relatively short space of time.